SIRO DC motors of the EYD series for roller blinds and double roller blinds are fully-fledged radio drives that are unique in shape, size and installation options. No additional cable laying is required. All settings are possible via the 15-channel handheld transmitter (type BF 315). Our motors have a smooth running gear, work quietly, precisely and accurately. The integrated radio receiver enables wireless operation via remote control and the use of other radio solutions from SIRO.
Areas of Application:
Suitable for all roller shafts from an inner shaft diameter of 18 mm. Our electric 24 Volt DC motors for roller blinds are equipped with a rubber adapter solution, which sits on the drive shaft of the motor. This adapter is also called a driver. 24 Volt roller blind drive and driver + raceway are thus pushed into the roller blind shaft and serve to drive the roller blind shaft from the inside. It is therefore important that the driver is relatively firmly seated in the roller blind shaft. With the help of adapter solutions, our roller blind motors can be used to retrofit and upgrade your existing interior roller blinds. For example
– GARDINIA Lift cords roller blinds
– IKEA Rollo LISELOTT
Three adapters are included in our standard range. They are suitable for roller blinds with shaft inside diameters of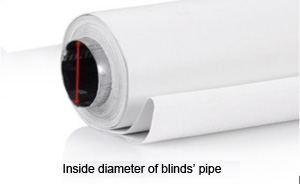 – 27-28 mm
– 24 mm(+-0.5 mm)
– 19-20 mm (pre-mounted on motor)
Should none of the three adapters fit into your roller blind, we also offer an individual tailor-made solution. Simply contact our support service@smart-rollos.de!
We offer you a 2 year exchange guarantee.
Our WEEE registration number is: WEEE-Reg.-Nr. DE59943004