The bidirectional EYAS25LE – Electric 230V roller motor for roller blinds, double roller blinds and home cinema systems, has an integrated voltage converter that enables direct connection to 220 / 230 V alternating current. The powerful yet quiet roller blind motor itself has a length of 50 cm, but can easily move a roller blind over two meters long and with a fabric up to a maximum total weight of 4.5 kg. Depending on your needs, you can choose between a
1-channel remote control SIS1600 without display or
15-channel remote control SIS1602 with display or
5-channel remote control SIS1605 with integr. timer function.
Areas of Application:
Especially suitable for the electrical retrofitting of large roller blinds
Can be integrated from an inner shaft diameter of 27mm
Also suitable for home cinema systems and presentation screens
Two adapters are included in our standard range. They are suitable for roller blinds with shaft inner diameter of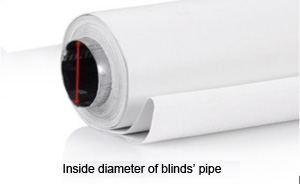 – 35 mm (+-0.5 mm)
– 28 mm (+-0.5 mm)
Should none of the two adapters fit into your roller blind, we also offer an individual, tailor-made solution. Simply contact our support at service@smart-rollos.de!
More Comfort and Higher Standard of Living!
Thanks to the bidirectional technology, you can control our EYAS25-LE 230V  roller motor in conjunction with the SIRO® Connect control station  via your smartphone, tablet or remote transmitter according to your requirements. Through the app you can define individual processes and intelligent operating instructions for your electric roller blinds and make your modifications by voice control via


,


,


or


.
If your roller blinds are mounted on the south window, it is advisable to additionally extend the control of the roller blinds on this side with a SIRO® SIS1187 sun sensor to avoid undesired excessive solar radiation and overheating of the room.
Our WEEE registration number is: WEEE-Reg.-Nr. DE59943004