Roller Blind of the Future
The Smart Home-capable roller motor ERBS15LE is our "slimmest" electric battery roller blind drive. Due to the unique outer tube dimension (15.4 cm), use is possible from an inner shaft diameter of the roller blind of 16.5 mm. The powerful yet quiet roller motor can move a roller blind up to two meters long and with a fabric up to a maximum total weight of 2.5 kg. The length of the drive itself plays an independent role on the length of the blind. Is your roller blind wider and heavier? Then we recommend the ERBS25LE, which can move up to 4.5 kg of tissue.
Thanks to the bidirectional technology, our ERBS15-LE smart home roller motor in connection with the SIRO® control center of your electric sun blinds can be controlled via your smartphone, tablet or remote controller (SIS1600, SIS1602, SIS1605) in conjunction with the SIRO® control centre of your electric sun protection roller blinds to suit your needs. Via App you can define individual procedures and intelligent operating instructions for your electric roller blinds. You can also supplement your modifications with voice controls via  


, 


, 


or IFTTT.
Versatile Application Possibilities
With the help of adapter solutions, our roller blind drives allow you to retrofit and upgrade your existing interior roller blinds. For example
– GARDINIA Easyfix roller blinds, EASYFIX day and night roller blinds and Lift cords roller blinds
– VICTORIA M TENEBRA und MINI roller blinds
– IKEA Rollo LISELOTT
Two adapters are included in our standard range. They are suitable for roller blinds with a shaft inside diameter of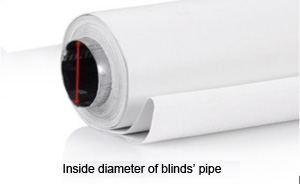 – 24 mm(+-0.5 mm)
– 16-17 mm
If none of the three adapters fit in your roller blind, we also offer a customized solution. Simply contact our support service@smart-rollos.de!
More comfort and more environmentally friendly!
If your roller blinds are mounted on the south window, it makes sense to additionally extend the control of the roller blinds on this side with a SIRO® solar sensor SIS1187 to avoid undesired excessive solar radiation and overheating of the room. In conjunction with the innovative solar panel SL1288H your roller blind motors can be supplied with energy from the sun in a cost-effective and environmentally friendly way.
Our WEEE registration number is: WEEE-Reg.-Nr. DE59943004